Education plays an important role in shaping a person's future, Hence, selecting the right curriculum is crucial as per the future preferences. In Pakistan, there are two popular options for secondary education: O-Level and Matriculation. This blog post aims to provide a comprehensive comparison, discussing the advantages and disadvantages of both curricula to assist students, parents, and education enthusiasts in making informed decisions. In addition, there is an inclusion of why you can choose Step Schools for both of these options for your child.   
Understanding O-Level and Matriculation 
O-Level, also known as the Ordinary Level, is an internationally recognized curriculum developed by the University of Cambridge International Examinations (CIE). It offers a broad range of subjects, encouraging critical thinking, practical application, and analytical skills. On the other hand, Matriculation follows the curriculum set by the local educational boards in Pakistan, emphasising a standardised educational system across the country. 
Differences between O-Level and Matriculation
 The difference between O-Level and Matric is penned below. 
Academic Rigor and Depth 
O-Level is known for its holistic approach to education, focusing on a comprehensive understanding of subjects while promoting critical thinking. The curriculum provides students with a diverse range of subjects, allowing them to explore their interests and choose from a variety of subject combinations. On the other hand, the Matriculation curriculum primarily focuses on major subjects divided into science, computer, and arts subjects and has a narrower scope, limiting flexibility in subject selection.
Recognition and Global Acceptance 
O-Level is accepted worldwide, especially in countries following the British education system, as it comes under the Cambridge International Examinations. This global recognition widens future opportunities for students, including admission to prestigious universities abroad. While Matriculation is recognised in Pakistan and is a prerequisite for pursuing higher education in the country, it may have limited recognition and acceptance internationally.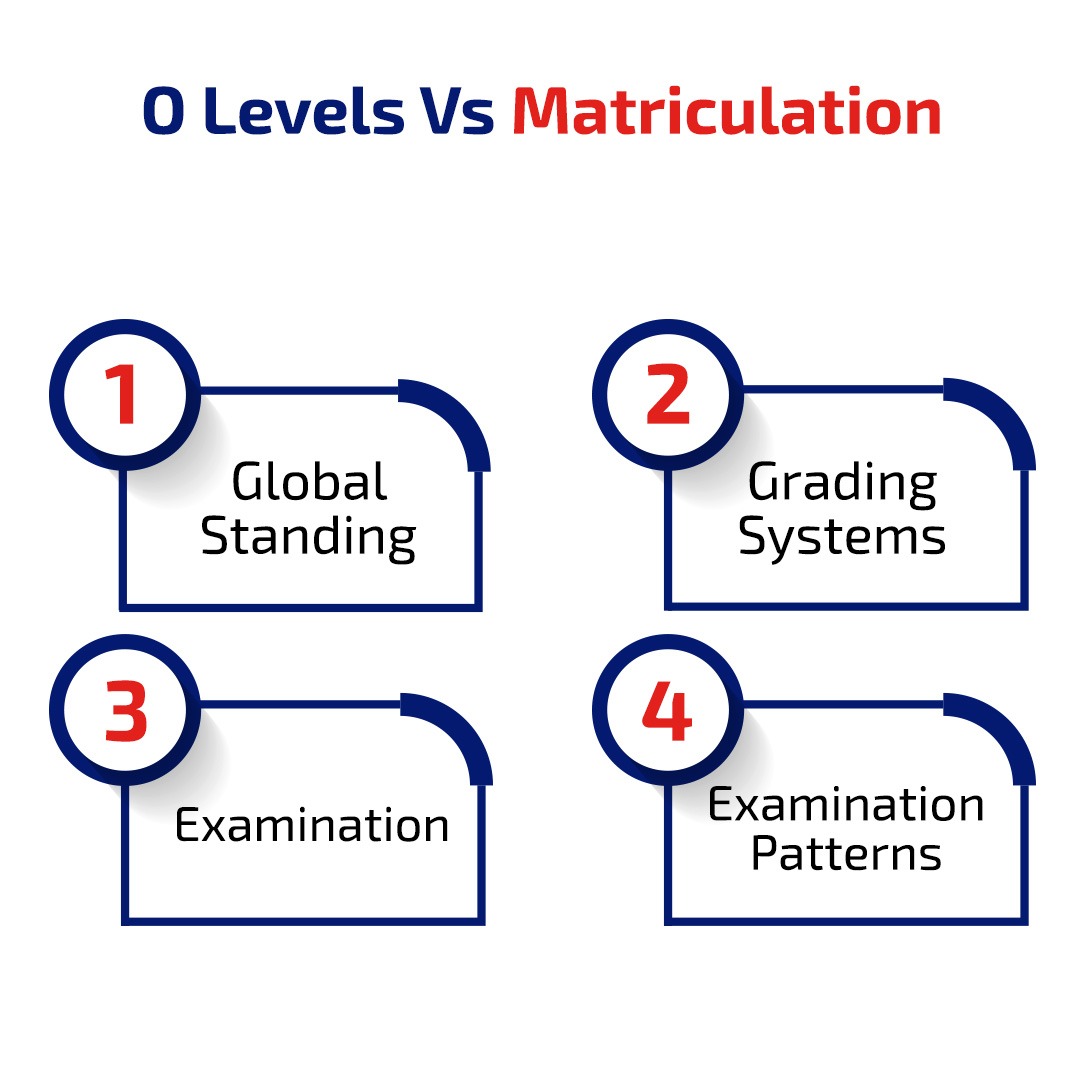 Language Proficiency 
O-Level strongly emphasises English language skills, enabling students to communicate effectively and compete on a global scale. It focuses on written and oral language proficiency, giving students an edge in their academic and professional careers. While matriculation prioritises language skills as extensively, potentially limiting a student's proficiency and competence in English. However, the Urdu medium option is also open to students who are willing to study in the national language.  
Examination 
O-Level exams are conducted bi-annually (twice a year). Precisely, May/June and Oct/November every year. Whereas, Matric exams are conducted by the BISE once each year.  In addition, the pattern of both examinations is different.
Foreign University Admission Criteria
Several esteemed universities in Pakistan accept both O-Level and Matriculation students. However, it is important to note that O-Level students often find it easier to meet foreign university admission prerequisites due to the broad range of subjects and the comprehensive knowledge gained throughout the curriculum. Additionally, O-Level students may receive credit exemptions or preferential treatment during the admission process in some institutions. 
Step Schools Offer a Choice for O-Level or Matriculation
Yes! You read it right. At Step Schools, we offer both types of education systems in Pakistan. Therefore, you can choose as per your personal preference to study. This facility is available on different campuses. However, we are practising this because, from junior years or early education years, we initiate the comprehensive style of education. We train our younger kids with 21st-century skills, steam education, and project-based learning (PBL).  
We aim from junior years to get them market ready for their future. As the time is fast-paced. Hence, our students study advanced subjects like robotics from grade one (Step 1). And get a hands-on experience in robotics from grade-3 (step 3). We keep things vibrant and effective throughout the junior, primary, and secondary years. Therefore, no matter whether you choose matriculation or o-level at your level of 9th class admissions. Our child would be prepared pre-hand in creativity, critical thinking, communication and collaboration.  
Avail Step Schools Admissions 2023 
This year's schools' admissions are open. Hence, avail the opportunity and get your child enrolled in the project of Punjab Group of Colleges (PGC)-Step Schools.  
Step Schools accept the online application for school admissions 2023. You can apply here.  
Conclusion
While choosing between O-Level and Matriculation, one must consider individual strengths, weaknesses, and career aspirations to make the best decision. O-Level offers a globally recognized curriculum with comprehensive subject options, promoting critical thinking and language proficiency. Matriculation, on the other hand, provides a standardised education system within Pakistan and is widely accepted for higher education within the country. Ultimately, students should consult with their teachers, parents, and educational advisors, taking into account their individual goals and aspirations before making a decision that aligns with their future ambitions. However, Step Schools offer both choices and admissions are open. Now, we are optimistic about you knowing what to study in Pakistan.