Step Schools offers a future-oriented education plan for kid students of primary, middle and secondary levels in Pakistan. In addition to the upfront and progressive education, the understanding of complex student emotions in growing years, proper student counselling at schools is essential. Step Schools offer the best student counselling during the school years. This article covers the scope and importance of student counselling at school. Furthermore, the registration form is linked in this article. To avail of the admissions 2023 at Step Schools.  
Student Counselling in Pakistan
Selecting the right school for your child can be a challenging decision, especially in a country like Pakistan, where numerous educational institutions pertain to varying standards and academic approaches. In recent years, student counselling has gained significant importance in the school admission process. This blog post aims to shed light on why parents should consider student counselling when choosing a school for their children in Pakistan. In addition, in this blog post, you will learn how STEP Schools emphasises the concept of student counselling in Pakistan's school education in 2023.
Student Counselling Helps Identifying Individual Needs
Every child has their unique strengths, weaknesses, and learning preferences. Through student counselling, parents can gain insight into their child's aptitude, personality traits, and interests. This understanding helps in aligning their child's educational journey with a suitable school that caters to their individual needs, promoting academic and personal development. For the same reason, we at Step Schools aim to deal with kids with the viewpoint that every kid is unique and every kid is different.  
Making Informed Decisions is Possible after Counselling
Student counsellors are professionals who possess in-depth knowledge and expertise in the field of education. They are well-versed with the admission criteria, academic programs, and extracurricular activities offered by various schools. By seeking their guidance, parents can make informed decisions based on their expertise, ensuring their child's admission to a school that caters to their specific requirements. 
 At Step Schools, we have trained our teachers to handle kids with empathy, kindness and love. While teaching them in the most professional manner. Only in this way, we can prepare a rock-solid student to match the pace of the 21st century.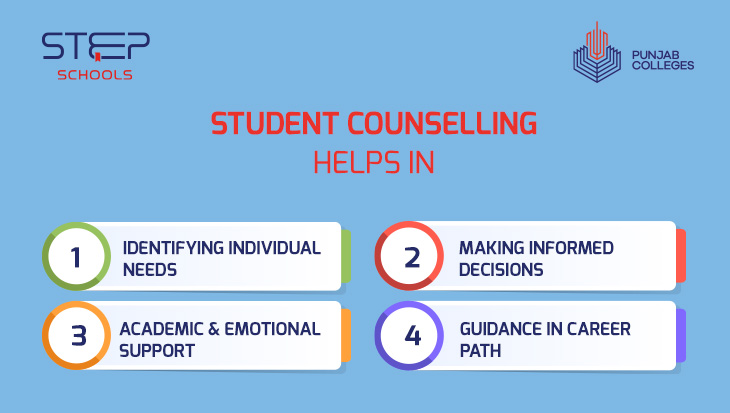 Student Counselling Offers Guidance on Learning Options
With a vast number of schools to choose from, parents might find themselves overwhelmed and confused. Choosing the one with a student counselling facility can be a good idea. Student counsellors can help in narrowing down the options by considering factors such as the institution's curriculum, teaching methodology, fee structure, faculty quality, and learning resources. This guidance ensures that parents are well-informed about the school's ethos and value system, allowing them to make a balanced decision. 
At Step Schools, we offer counselling services to students on all levels. These are listed below.  
Behaviour Management

 

BISE Mentorship & Learning Programmes

 
You can go through these programmes in detail here. 
Student Counselling is Academic and Emotional Support
School admissions can be a stressful experience for both parents and students. Student counselling can provide the necessary support during this time, addressing any concerns or doubts that parents may have. Counsellors can also help children deal with any anxiety or emotional challenges that arise from transitioning to a new school, fostering a smooth adjustment process. 
This is one of the crucial points of consideration at our Step School Campuses. We offer the latest educational trends like 21st-century skills development, the inclusion of robotics, the personality building with project-based learning methodologies. We also cater to the emotional and mental well-being of our all kids.  
Long-term Success is Possible
Choosing the right school is a crucial step that significantly impacts a child's future success. By seeking professional counselling, parents can leverage the expertise of these individuals to make an informed decision. Attending a suitable school enhances a student's overall academic performance, personal growth, and prospects, leading to a more fulfilling educational journey and increased opportunities. 
 Step Schools aims for the future. We want to develop the personality of our all kids to bring out the leadership with responsible and honest citizens of this country. Therefore, you can put your trust in us as a parent to get your child enrolled with Step Schools.  
Don't Miss out Admissions 2023
Step Schools admissions 2023 are in full swing. Don't miss out on an opportunity to shape your child's future in the best possible way. Apply today through our online registration page and take the right step with Step Schools. Make your child a leader of tomorrow with the skills and education 
Conclusion
In a country like Pakistan, where education plays a vital role in shaping a child's future, parents must consider seeking student counselling during the school admissions process. A student counsellor's expertise can help parents make informed decisions, keeping in view their child's individual needs while facilitating a smooth transition and promoting long-term educational success. By investing time and effort into student counselling, parents contribute to ensuring a bright and prosperous future for their children.