Modern times demand modern education. Modern education looks for the latest market-driven skills and knowledge that could equally cater to all the latest fields of current times. Step Schools understands these complexities very well and is aware of the bombastic potential of Pakistani youth. Keeping this in view, Step Schools have incorporated Steam education with the 4 Cs of 21st-century into its regular education. School Admissions 2023 are open. This article will shed light upon the four (4) Cs of 21st-century skills.  
4Cs of 21st Century Skills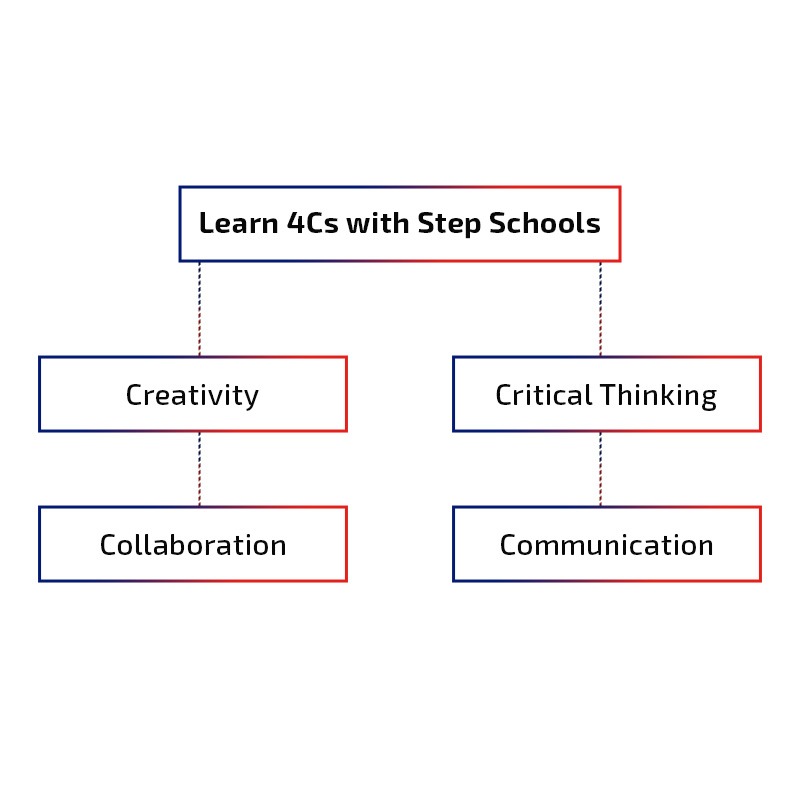 21st-century skills are the skills that are in demand for growth on various levels. A subtle combination of hard and soft skills comes together and makes the 21t century skills. The 4Cs are a crucial part of these 21st-century skills. These include creativity, communication, critical thinking, and collaboration. These four Cs are the basic element to stand vigilant in the personal and workspace in recent times.  
The role of these four Cs is massive. If you want to learn these in detail, you can have a look over here.  
Steam Education at Step Schools
Steam education is abbreviated from Science, Technology, Engineering, Arts and Maths. Hence, you can understand what it is all about. Moreover, if you are our regular reader, you have an idea, as it has been focused multiple times on Step Schools.  
Step Schools offer Steam education from the early years. Leading towards the possibilities like project-based learning (PBL), ICT and robotics. Hence, students will get an opportunity to get in touch with the latest education and pattern at while studying with the futuristic approach.  
Start Early Year Education 
At Step Schools, we aim to nurture our junior students' emerging social, cognitive, emotional, and language skills. The kids at an early age are so pure and delicate, which demands extra care for them. Hence, at Step Schools, we provide a framework that directs teachers in choosing efficient support techniques for children's learning. Properly moving the kid from one learning experience to the next enables smooth transitions from home to the years of preparation and then to formal school. 
Education for Primary Students
Steps 1 and 2 are the primary education (junior years) at the Step Schools. The curriculum is well-versed, grounded around our junior-year students' knowledge, practical learning, and hands-on experience.   
The next step is 3-7, also known as the middle years. These are under discussion below.  
Move up to the Middle with Developed Abilities
Middle School at Step Schools consists of classes 3-7. It is a proven fact during this period; children face certain changes due to their growth. Step Schools addresses such changes intelligently to get the most out of the efforts.  
Hence, The STEP Middle School Curriculum supports teaching and learning in such a way through special instructional, curricular, and administrative operations; that it not only affects students' cognitive, social, and emotional lives but also offers a wide range of contemporary experiences.  
Step Schools are meant to get them ready for the tech-heavy world of the future. The teaching methodologies that are built around practical and interdisciplinary methods allow the students to reach their full potential and develop skills that will last a lifetime.  
Choice of the Senior Schooling Available
Senior school years are the defining ones. Step schools take pride in promoting the same steam education, 4Cs in children at this point also. There are two educational setups available in Pakistan. Cambridge school system and regular local body's board examination.  
Step Schools offers both to our students at different campuses. This helps in addressing the diverse choices regarding education patterns. However, since step schools have promoted 21st-century skills like 4Cs development. Students become able to get through both patterns effectively.  
Step Schools Specialises in 21st Century Learning
All this extensive schooling is elaborative towards the richness of teaching methodology, the teacher's role, and the readily available options for the students for advanced learning. We not only provide physical options like upgraded curriculum or digital facilities.  
Step Schools offer trained and empathetic teachers who are also well-trained with respect to the latest trends, practical approaches, and effective teaching methodologies.  
Online Applications for Admissions 2023
If you are looking to get your child skilled in hard and soft skills and 4Cs from an early age, you should not miss the chance with Step Schools. Step Schools admissions 2023 are open, and the intake process is on! The online application form is ready to be processed.  
Conclusion
Step Schools offer the latest learning techniques to incorporate modern techniques in students. 4 Cs are one of the most prominent and essential skills for young students to learn today for a prosperous tomorrow. Moreover, school admissions in 2023 are open at Step Schools. Don't miss a chance and apply today.