School Admissions 2023 is open at Step Schools in Pakistan. Step Schools offers education on the most advanced notes of formal trends and futuristic approaches. This article will shed light upon all the learning advancement your child can benefit from while studying with us at Step Schools.  
Exposure To The 21st Century Learning 
We at Step Schools offer the latest education to young minds. To help them become the leaders tomorrow. For this, it is essential to adopt the most advanced learning patterns. These advancements help in nature building and developing a solid knowledge base.  
21st-century learning, adaptation of STEAM education, and inclusion of project-based learning are some of the essential parts of our 360-degree plan.  
Opportunity To Develop The 21st-Century Skills
As discussed above, 21st-century learning leads to the development of 21st-century skills. The skills and knowledge are based upon a closely curated curriculum at Step Schools. The school's admissions that enable children to follow the latest learning patterns to develop market-driven skills are required.  
For instance, step schools follow STEAM Education to develop a deeper understanding of respect for Science, Technology, Engineering, Arts, and Mathematics among students from their early years. The following soft and hard skills are duly developed among them over time.  
Problem Solving

 

Creativity

 

Critical Analysis

 

Teamwork

 

Independent Thinking

 

Initiative

 

Communication

 

Digital literacy

 
Schools Admissions That Offer Early Year Education Differently
Little kids at the time of school admissions are fresh brains. Therefore, the level of learning and adaptability is brilliant in the early years. Due to the same reason, Step Schools inculcates a special focus on early-year education and development. We offer them to study introductions to subjects like robotics and science since class one (1), which ultimately shifts to the practical project-based learning (PBL) from class three (3).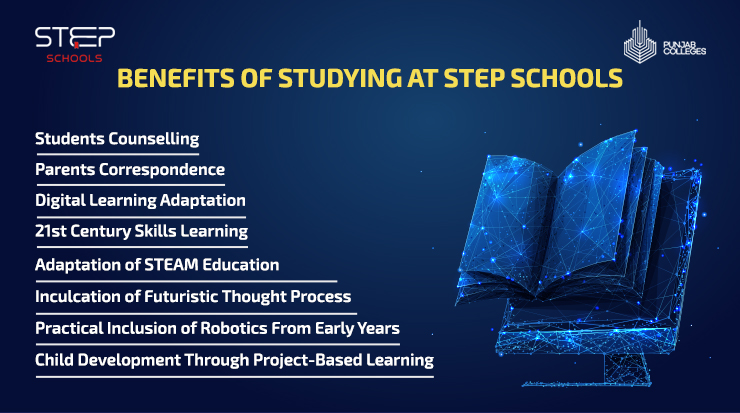 Step Schools Offer Practical Learning With PBL
Continuing project-based learning (PBL), Step Schools are a solid believer in hands-on training. Therefore, with the inclusion of STEAM education, we are the school that combines the elements together to provide children with practical and real-life problems. Our students come together and play their part to find the most appropriate and workable solutions. Due to this practice, our students are team players, creative thinkers, and leaders in the long run.  
Introduction To Robotics from Class 1
Robotics are the present; they are, undoubtedly, the bright future. Artificial Intelligence (AI) is the perfect example to analyse the tip of the iceberg. Therefore, if we want our children to stay competitive, at least for the next couple of decades, it is the best idea to start learning advanced technology today.  
Early years education remains powerful till the last time. It is imprinted on the minds. Therefore, we include advanced learning today, with an aim to make our students extremely vigilant and open to identifying the related opportunities in their market.  
We must find loopholes in the systems for betterment and improvement to grab the opportunity.  
Digitally Empowered Childhood at School
Technology is the pen and paper in 2023. E-learning is not an alien concept not, especially after the episode of covid-19. Everything went online. Therefore, Step Schools offer high-end education technology to keep our students upgraded.  
The components completing the Steps' education technology are as follows. 
Step Portal

 

Step E-Learning Program

 

Step ICT Curriculum 

 
Apply Today for Schools Admissions 2023
If you are also someone looking for the schools' admissions in Pakistan 2023. Don't search any further. Step Schools is a nationwide school network. Choose your nearest branch and enrol your child. In addition to the factors like STEAM Education, Project-Based Learning and other options, the step schools offer education from 1 to 7 classes leading to the choice to be made from the options of A and O level or board education, as per your choice.  
Want To Know More?
The admission registration for schools admissions 2023 is available. Apply today, and step forward for a successful tomorrow. However, if you want to learn more, you can visit the website and other portals.  
About Step Schools 
Step Schools are a proud part of the largest educational network in Pakistan. For the last 38 years, the Punjab Group of Colleges has served the national education fabric with top-tier institutions. Step Schools is also one of them.