Traditional education is not fruitful for the modern era and twenty-first century. Therefore, it is crucial to develop the modern education system in Pakistan. Especially the schools must be taken care of. Step schools are the best option if you want to enrol your children in the modern education system. This article will explore how and why.  
Step Schools Bring 21st Century Modern Education System
The modern education system relies upon the latest education, including science, technology, engineering, arts, and mathematics. Therefore, if we still exclude the latest trends from these subjects, it would be unfulfilling regarding the concept of modern education.  
For the same reason, Step Schools includes the latest learning practices, with complete inclusion of technology in the school education.  
Modern Education Involves Personality Grooming
In addition to the technology and latest teaching techniques, it is also essential to polish the human personality on diversified levels, as human psychology is. This personality development is essential to ensure the upbringing of younger minds to make them effective and productive at their national and international levels.  
Therefore, step schools work on the four Cs of modern times. 
Creativity

 

Communication

 

Critical Analysis 

 

Collaboration    

 
Creativity is essential for everyone to bring excitement and curiosity to every being. It is equally important for adults and kids. Also, the sense of creativity vanishes with the passage of time if it remains unattended. Therefore, we must provide ample and frequent opportunities to our younger generations. 
Communication is the most important element for success in modern career development. Therefore, it is crucial to inculcate the student's soft skills in communication and discussions. Recent times have displayed that having a proper degree is not enough. Students with soft skills get more opportunities and chances for growth. Hence, Step Schools provide proper attention to the development of the art of communication. This enables us to ensure the true adaptation of the modern education system.   
Critical Analysis is another prerequisite when it comes to staying focused and successful in the outside world. When a person can critically analyse any situation, he or she becomes good as a decision-maker.  
Collaboration is another important skill to learn. People function when they stay connected and together. This is the power of teamwork. Hence, to stay competent in adult life, it is also important for any person to stay patient and efficient in people handling. It is right to say that people management and dealing is a tough job. This is because everyone is different with a varied point of view. Keeping people together is a strong essence of a successful life.  
If you want to learn the role of 4Cs and Steam education in a child's development. You can read it here.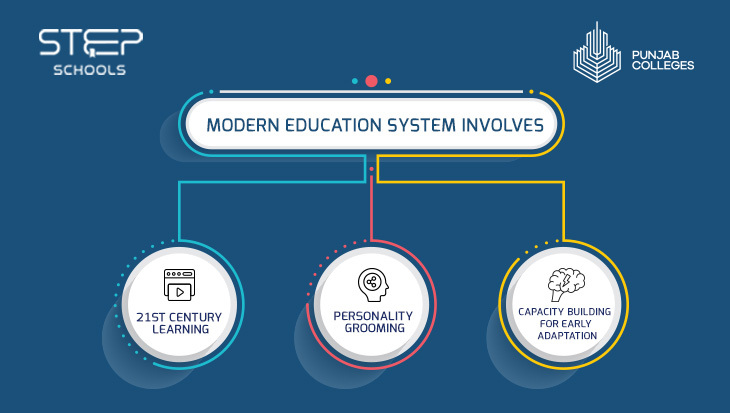 Traditional Education Alone Is Not Enough
Traditional education fails to fulfil the needs of the 21st century. Hence, a shift that is smooth and effective is essential.  Therefore, modern techniques, with the optimal use of the latest technology. Hence, Step Schools includes all these components of the 21st century to equip students with modern education.  
The students at the Step Schools learn through the digitally equipped classrooms, trained and groomed well-knowledge teachers, and the app to ensure their studies never get compromised. Furthermore, students practice the skills and qualities of being a good citizen through various games, projects, and volunteering programmes.  
In addition, Step Schools has a unique concept of school government to train younger kids on effective ways to perform effectively and to sharpen people skills.  
You can search for it all on our blog and website, available at the step schools.  
21
st
Century Learning Polishes 4cs Of Modern Era
The latest learning is possible with early adaptation. Therefore, implementing the modern education system is always a good idea. With Steam education, we can train our younger brains to become book-smart and street-smart at the same time. Step Schools are the prominent schools in Pakistan which are trusted by parents with respect to the future and skilfulness of their children.  
After all, Step Schools understands that an educated Pakistan can make a progressive Pakistan.  
Conclusion
Modern education demands a modern curriculum and the latest input to result in market-driven output. Hence, the modern education system evolves around STEAM education, and 21st-century skills can assist students in achieving modern demands and moving forward with success.