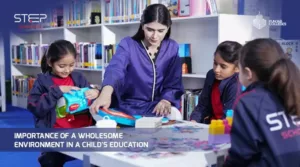 Importance of a Wholesome Environment in a Child's Education
The Education of a child depends upon several factors. Factors include the home environment and school setup. The child's relationship with every person in his life affects how he nurtures. Mothers are the first educational institution for a child because a child stays longest with her. After attaining the school-going age, everything adds up to his environment. Step Schools are cautious about providing a wholesome environment to their students.  
Students Safety  
The safety of students is the principal factor in creating a wholesome environment in institutions. Protection includes safety from abuse on all levels. The students must feel safe while they are at the school campus. Security is not limited to physical safety but emotional safety, safety against every sort of harassment, substance, and violence at every level.  
Connecting Environment 
A welcoming and connecting environment is one of the crucial elements of a wholesome environment. If students do not feel connected to other people or included in the overall atmosphere, it affects their well-being and Education.  
Relevant Subjects & Lessons 
The relevance of school subjects and lessons is essential for students' success. The subjects, content, and lesson breakage should prepare students for professional, ethical, and personal development. The primary target of getting an Education is to prepare the child for future endeavours. If the child fails to be a product, ethically strong, and positive individual, it means he has a compromised environment that has affected his Education.  
Freedom of Choice 
Every child is born free. The children enrolled in schools should have freedom of choice in addition to the tint of discipline. Freedom of choice includes freedom of speech, freedom to think, freedom to analyse and freedom to explore, and freedom to learn what they love. Studying subjects they have a potential for should be available to them to make a proper career choice.  
Step Schools Creates Wholesome Environment for Students 
Step schools create a wholesome environment for all students. The school is a dedicated supporter of the fact- every child is different. Therefore, Step Schools are providing a safe environment for children. Step School addresses the wholesome environment factors in the following ways.  
21st Century Education 
Step Schools offers a curriculum based on a futuristic approach. The 21st-century subjects like Computing, Robotics, and Mathematics are included from the initial schooling years.  
STEAM Approach  
STEAM Approach comprising the relevant subjects to the development of future, and career, are taught in Step Schools. The combination of Science, Technology, Engineering, Arts and Mathematics prepares students to stay connected and updated with the latest educational topics.  
Project-Based Learning 
Project-Based Learning (PBL) is one of the prominent features of Step Schools. The students get multiple projects to do while studying. The PBL helps students to learn about real-life problems and find solutions through independent thinking. The hands-on experience leads the students to think out of the box to find practical life approaches.  
Step Schools have applied project-based learning in its true sense. It works as an interdisciplinary approach with all subjects simultaneously.  
Students Counselling  
Step Schools provide support and counselling at every level. The school has a proper setup of student support, and the students can get the following counselling per their needs.  
Behaviour Management for Enhanced Learning 
Step Schools have a proper behaviour management system. It helps to enhance students' learning experience. Behaviour management works closely with teachers. It helps them in teaching behaviour management through various techniques.  
BMGP Program  
BMGP program is an abbreviation of BISE (Board of Intermediate and Secondary Education) Monitoring & Grooming Program. Step Schools provide proper guidance to their students concerning the board exams in matric. The tips, tricks and techniques are provided in this project.  
Guidelines 
Step Schools provide a complete set of guidance to its students throughout the years.  
Career Counselling 
Career Counselling is the most critical in-house support Step Schools provide to its students. The students are provided with suitable ideas, career options, and future perspectives on various industries, and also, the calibre of students is discussed with their wishes.  
Step Schools provide a wholesome environment for students to help them to get the best out of their Education. A child's Education must not be compromised due to the controllable elements. To provide quality education to your child, you can visit Step Schools.