In today's rapidly evolving world, the integration of technology into education is not just a trend; it's a necessity. Educational technology, or EdTech, has transformed how we learn and teach, offering many benefits for both teachers and students. Step Schools, a school offering 21st-century learning in the field of education, has embraced this technological revolution, providing a cutting-edge learning experience that empowers students for success in the digital age. In this blog post, we'll explore how Step Schools leverages education technology to enhance learning and prepare students for the future. Moreover, admissions are open for 2023. Don't miss a chance and apply today to get your child familiar with the education technology from school days.  
Education Technology at Step Schools at Glance
Step Schools offers a multi-faceted education technology. You will get a brief introduction in the following.  
STEP Portal

 

STEP E-Learning Programme

 

STEP ICT Curriculum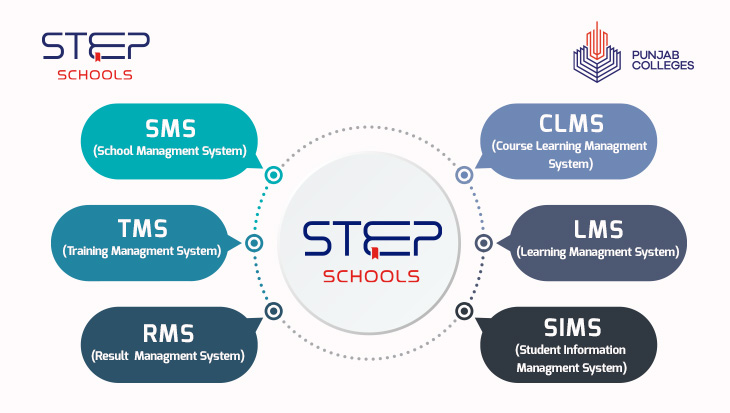 STEP Portal
Teachers, students, parents, and administration are all connected in one place using the STEP portal. Teachers have access to the STEP curriculum through this portal, and all the teaching tools created by the topic leads. It also establishes a direct line of communication between the faculty and administration of the school and between the faculty and administration and the parents. We created a mobile application to make it easier for parents, teachers, and students to access the portal from any location at any time of the day to improve usage. 
STEP E-Learning Programme
Students can enrol in classes through the STEP E-learning program from any location and have access to video lessons, classwork, assignments, and other supporting materials for an easy learning process. 
STEP ICT Curriculum
The STEP ICT curriculum teaches students how to use technology, particularly portals, and promotes technology and other subject knowledge learning. It prepares the STEP School students to innovate and create tomorrow's technologies. 
There are various benefits of adapting to education technology in recent times. These advantages get multiplied if the ed tech is introduced at the school level. The major reason for this enhanced effectiveness is the brain capacity of younger minds.  
Personalised Learning
One of the key advantages of education technology at Step Schools is personalised learning. Using digital platforms and software, students can access tailored lessons and resources that cater to their individual learning styles and paces. Whether it's adaptive learning algorithms, interactive quizzes, or video lectures, technology allows educators to provide a more customised education, helping each student reach their full potential. 
Blended Learning
Step Schools understands that traditional teaching methods alone may not be sufficient in today's world. We have embraced blended learning, combining in-person instructions with online and recorded resources to address this. This approach enhances flexibility and encourages students to become more independent learners, a valuable skill in the digital era. 
Interactive Classrooms
Technology has revolutionised the classroom experience at Step Schools. Interactive whiteboards, textbooks, and multimedia presentations engage students on a deeper level. These tools facilitate a better understanding of complex subjects and enable teachers to incorporate various teaching methods, ensuring that no student is left behind. 
Projects Based Learning Opportunities
Various projects and activity-based learning is another innovative aspect of Education Technology at Step Schools. Educational Robotics and simulations make learning fun and engaging. These interactive experiences motivate students to actively participate in their education actively, fostering a love for learning that extends beyond the classroom. 
STEAM Education
In a world driven by science, technology, engineering, arts and mathematics (STEAM), Step Schools places a strong emphasis on STEAM education. Through technology-rich labs, coding classes, and robotics programs, students are not just consumers of technology but creators and innovators. After all, with 21st-century things like education technology, STEP Schools move forward to produce leaders and thinkers for Pakistani society.  
Collaboration and Communication
Effective communication and collaboration are essential skills in today's interconnected world. Step Schools utilises various communication tools and collaborative platforms to prepare students for success in a globalised society. Group projects and activities are interconnected opportunities to teach students how to work together effectively. 
Continuous Assessment
EdTech at Step Schools allows for continuous assessment of student progress. Real-time feedback and data analysis help educators identify areas where students may need additional support. This proactive approach to education ensures that no student falls behind and that each one reaches their full potential. Furthermore, all major players, including parents, teachers, and students, are together on the same page.  
Step Schools Admissions 2023
In a rapidly evolving digital world, Step Schools stands as a beacon of innovation in school education in Pakistan. Our commitment to embracing and harnessing educational technology's power has transformed our brilliant students' learning experience. By personalising learning, blending traditional and digital methods, and preparing students for the future, Step Schools ensures that its students are academically proficient, technologically savvy, and ready to thrive in the 21st century. 
 Therefore, if you are also looking for a well in balance school in terms of education, technology and skills, you should not miss out on getting your child enrolled in Step Schools. Our admissions for 2023 are on a roll. Before the process is completed, apply Today! Online admission form is available on our website.  
Conclusion
As the world continues to change, Step Schools remains dedicated to providing a dynamic and technology-driven education that equips students with the skills and knowledge needed to succeed in an ever-evolving landscape. So, if you're looking for an institution that values innovation and is committed to preparing students for the future, Step Schools should be at the top of your list. Explore education technology at Step Schools and embark on a journey towards a brighter and more digitally literate future.