Mental Health is a crucial part of the entire human well-being. But it is often neglected. According to the United Nations sources, 10 % to 20% of school-going children face mental health problems. This article speaks about the top five tips for parents to ensure the mental improvement of their school-going children. Mental well-being is essential for our home units, whether we have a single-unit system or a joint-family system in Pakistan. Additionally, we strive to make our schools, institutes, and workplaces aware of the importance of mental health.   
Keep the Home Environment Healthy
A child's safety comes first, whether you are talking about home or the outer environment of schools, colleges, or universities. Therefore, please make your home peaceful and comfortable for your children.  
Home should be a safe place for your kids, where they look forward to returning, no matter what happens. Therefore, encourage a happy, healthy and loving home environment to strengthen your children's and family's mental health.  
In Pakistan, we have a two-tier family system. We are basically switching from traditional joint families to single-unit households. But still, there is a prominent presence of both living units. According to the survey, two-thirds of families still prefer a joint-family system. Therefore, maintaining a healthy lifestyle while you live in a joint family system becomes even more essential for your kids.  
The underlying reason is that in joint families, all our immediate and extended families live under one roof with different opinions and viewpoints. Hence, the patience and virtues of acceptance and personal space are elements to ensure a healthy environment for the mental well-being of kids.  
Furthermore, we must construct school environments that are productive and safe for our kids. For the same reason, STEP Schools encourage a close liaison and connection between teacher-student-parents to complete a circle of appreciation, leaving no room for improvement or consideration unattended.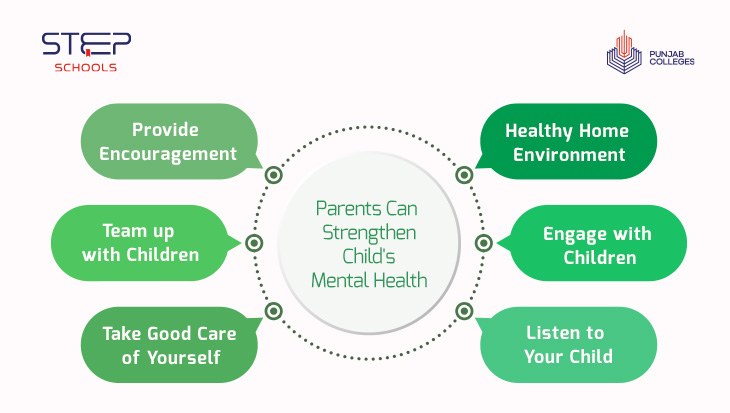 Ensure To Get Engaged with Children 
A happy home also consists of people who have time for family members. Our Joint families have the presence of grandparents, which is often seen as a blessing for kids in various ways. On the contrary, no matter how much workload you may have, at least try and take time out from your schedules to engage with your kids. For instance, you can arrange half an hour in your routine with your children and get engaged with them.   
See what they are up to, their activities, and what they want to share with their beloved parents. This regular practice will positively impact the mental state of children, parents and siblings and strengthen their mutual bond. Trust is built over time and gradually becomes rock-solid.   
Listen to Your Children
One of the biggest fears of our children is that parents won't understand them. We must eliminate this fear of misunderstanding or being unheard. Engagement is one of the ways to do so. And the other effective way is to practice active listening to your children.  
Let them speak about what is going on in their lives and deal with them with patience. Avoid shouting and being judgemental of your kids. Being hyper and reactive is no solution; gradually, children get frightened, and their mental health suffers.   
It is a statistically represented fact that in Pakistan, around 17 % of children were affected by psychiatric problems.  
Encourage Kids to Try New Things
This world is new to the children. In addition, they are open with a ton of information. Eventually, they want to try new things. Encourage them with their productive ideas and negate their harmful plans with proper reasoning. Let them ask questions.  
In addition, there is no need to fulfil all their desires but make them productive and efficient by setting a reward game. If your child demands anything, ask them to do X, Y, or Z task which is new or gradually tricky for them and gift them as a reward.   
Team Up with Your Kids
Last but not least, become their source of reliance. Parents are a world to children. Therefore, the level of mutual trust will define your child's future and your mutual relationship. If you follow all these tips as shared above, there is a chance of better relationship development among you and your kids. Confidence always multiplies love and respect.   
Children can go wrong at certain times. This is a part of learning. Therefore, as a parent, be patient and understanding yet careful with today's kids. Tell them gently about right and wrong in their day-to-day life and guide them with your experiences and practical approach.   
Becoming a team will boost your child's confidence, and they will become open to social interactions and home affection and ultimately will become responsible individuals in their adult lives.   
Take Care of Yourself
This is a bonus tip! For parents to strengthen the mental health of their children!  
Take reasonable and responsible care of yourself above all things! Make your health your priority. Your good health and long life with a bunch of happy moments significantly impact the lives and health of your children.   
Children love their parents, though ageing is a truth, and ultimately, parents never always stay for good. But if people are conscious of their well-being, they impact the entire home positively. Children take a load of burden on their emotional, mental and physical health if their parents are not in optimal health conditions.   
Also, surround yourself with good people and stay closely connected with your family to have a wonderful, happy, healthy and wise family!   
Conclusion
10th October is observed as World Mental Health Day. Modern times have modern problems. The solution to mental issues is the close connection between joint and single-unit families and closely related people. Children are the parents' goal. Parents do everything to prosper their kids. Likewise, they try their best to give them a resourceful, happy, and healthy life. These little tips will help our parents go far and beyond to protect and strengthen their children's mental health.