21st Century learning is essential for our new generation. Fast-paced continuous evolution is the base of this rising necessity. Therefore, Step Schools emphasises the need for twenty-first-century learning at the primary level of education. This article will explain the framework of 21st-century learning that is beneficial for students from primary to secondary and higher secondary education.  
21st Century Skills
The new era demands new skills and new learning, similarly with the advancement of the latest technology like artificial intelligence (AI), robotics, blockchain, and web3. Therefore, if we want to make our future generations benefit, we must enable them to learn these to bring and adapt the change effectively in Pakistan.  
For this, it is crucial to develop steam learning, literacy, and life skills among students to enable them to ace their future.  
Framework Explained The 21st Century Learning
Now we have learned the importance of 21st skills and steam education. The next step would be to know the best way to appropriately infuse these must-have skills in our kids. Hence, we have seen through the well-developed framework, which is already developed after taking available input from teachers, principal educators, leaders, and business experts for better structure design.  
The sense of mastery in the latest technological skills is the prerequisite for students' tomorrow's success. The key subjects include arts, mathematics, science, economics, geography, history, civics, and government, ranging from basics to advanced levels.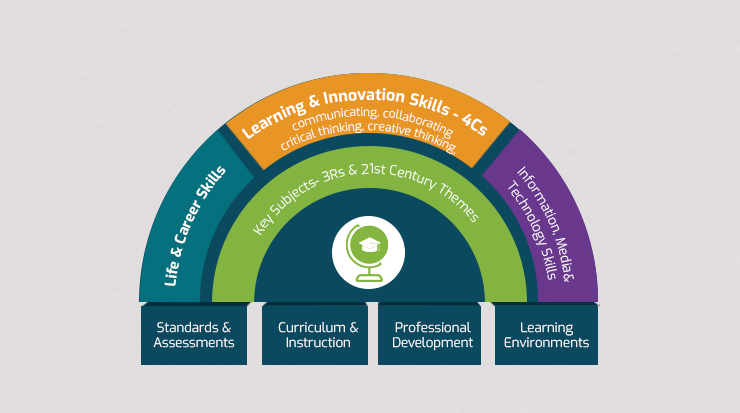 The ideal framework for learning all the comprehensive skills should include the following. 
Key Subjects Associated with the 21st-century

Themes, requirements, and Advancements. For instance, global awareness, financial, economic, business, entrepreneurial, civil, health, and environmental literacy.

 

Latest Teaching Methodology to develop innovative skills such as the

four Cs

.

 

Awareness of information and technological skills.

 

Life and Career Skills to move in the social dynamics.

 
Support

System for 21st Century Skills Framework

The support systems are a total of five in number to cater to the comprehensive needs of the program as per the need. The support systems are listed below.  
21-st Century Standards 

 

Assessments of 21st-Century Skills

 

 21st Century Curriculum and Instruction 

 

 21st Century Professional Development 

 

21st-Century Learning Environments

 
Step Schools work well on the framework supported with a combination of support systems, as mentioned above. We have developed steam education to develop  21st-century learning skills among students from early classes. Moreover, our students are properly guided through the advanced and professionally curated curriculum with due instructions. These instructions are possible due to the professional development of our teachers through professional training sessions. In addition, we provide a proper learning environment by offering  IT, and digital skills and opportunities to do project-based learning with other mates.  
Benefits of following the Framework
Students get numerous advantages from well-developed skills of twenty-first-century skills and attitudes. Some of the benefits are listed below.  
Students Develop the Skills of Creative Thinking,  

 

They Learn About Active Participation and Performing Out-of-the-box. 

 

Students Learn to Generate and Express Original Ideas.

 

Takes Hands-on Experience in Various Things 

 

The Students Learn Teamwork with Other Beneficial Skill Sets.

 

Learn Better Communication to Get Productive Results.

 

ICT (Information and Communications Technologies) Literacy 

 

Adaptability to the Environment is Also a Demanded Skill, Hence Included.

 
Start From Primary Schooling
Now you know the framework and supporting systems that are essential for twenty-first-century skills and knowledge adaptation. We are glad to let you know that Step Schools is one of the most prominent educational institutions on the school level in Pakistan to practically implement the steam education from class 1 to develop 21st-century skills and proper know-how about Robotics, IT and other latest trends.  
Admissions Open
Now, are you curious about how to get your child admitted at Step Schools in 2023? You can get admissions in 2023 at Step Schools. The admission process is on.  
Conclusion
The 21st Century demands the latest trends to be taught for better future exposure. Step Schools can help in this regard. Admissions are open, and we offer steam education with the skills of the 21st century.