Education is a compulsory element to ensure a quality life anywhere in the world. In Pakistan, education starts with school education as primary school and later leads to the middle, then secondary education. It is considered the foundation of a child's educational journey and plays a critical role in their overall development. This article draws light on a primary school for better understanding. The article outlines the introduction, purpose, and difficulties a primary school in Pakistan faces.   
Introduction to Primary School 
Primary education refers to the first stage of formal education that children receive. A primary school is for students between the ages of five and eleven. Primary schools are also known as junior schools, nurseries and infant schools, elementary schools, and grade schools. While nursery and infant schools and junior schools typically only serve a narrower age range, the phrase "primary school" generally refers to one that helps students aged five to eleven (more about this later).  
In most countries, primary education is mandatory, and children are expected to attend school for a specific number of years. The curriculum for primary education varies from country to country, but it generally includes a variety of subjects including language arts, math, science, social studies, and physical education.  
Need for Primary Education 
Primary education aims to provide children with the basic skills they need to become literate, numerate, and socially adept individuals. During this stage, children learn fundamental concepts such as reading, writing, basic math, and critical thinking. These skills are essential for children to succeed in future academic and professional pursuits.  
Age Groups and Stages 
In primary schools, the enrolled children are in their early years. The usual age groups at this level of education are divided into two sub-types. The lower primary level ages from grades 1-5, and the upper primary level covers students from grades 6-8.   
With the evidence of grades, we can understand the age of students in primary schools. The total range of 5-11 years is in primary education.     
Primary school students are frequently divided into key stages and age groups. This implies that your child will typically be in a class with kids their age.  
Stages 
The Early Years Foundation Stage, often known as EYFS/Reception, outlines learning and development for kids from birth to age five. With children typically entering kindergarten classes in schools at the age of four, the early portion of this stage is frequently covered in settings such as nursery schools.  
Key Stage 1 is comprised of Years 1 and 2, respectively. Children aged five to seven are included in this key stage (year 1: ages five to six, year 2: ages six to seven).  
Lower Key Stage 2 is comprised of years 3 and 4. Children falling between the ages of seven and nine are included in this crucial stage 2 area (year 3: ages seven to eight, year 4: ages eight to nine).  
Year 5 and Year 6 make up the upper key stage 2 curriculum. Children aged nine to eleven are covered in this final key stage 2 lesson (year 5: ages nine to ten, year 6: ages ten to eleven)  
After primary, there are other levels of education. the chart is attached.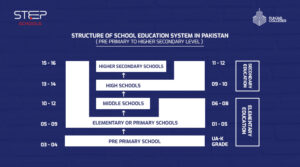 Teaching Methodology in Primary Schools 
The teaching methods used in primary education focus on making learning absolutely fun and interesting for children. Teachers often use a variety of interactive and hands-on activities to help students grasp concepts and apply them in real-life situations. The classroom environment encourages creativity, exploration, and curiosity, fostering a lifelong love of learning.  
Role of Primary School in Education 
Primary education also plays a vital role in a child's social and emotional development. During this stage, children learn to interact with others, make friends, and develop social skills such as sharing, cooperation, and empathy. Teachers play a vital role in children developing these skills by encouraging positive behaviour, providing opportunities for collaboration and teamwork, and modelling appropriate social interactions. Therefore, you must search for primary schools near me for an untiring and efficient start to learning.  
Problems of Primary Schools in Pakistan 
The education sector in Pakistan is often neglected since independence. The problems from primary to higher education are almost the same. However, the issues of primary schools in Pakistan are covered in a nutshell.
Education system since primary schooling is not uniform for all students. It is divided into private, public, and religious schooling patterns. This makes it difficult for students to compete at all levels of education, including primary schools.
The education in this multi-purpose schooling system becomes directionless.
The outdated curriculum often makes it difficult for students to stay upgraded and market competitive regarding the counterpart students.  

 
Step Schools-Primary Education Provider on Latest Grounds!
If you are looking for a school system that can polish your child for the challenges of the 21st century while staying back in Pakistan, then you should consider Step Schools for nursery, primary, and senior school years.  
The step schools not only develop the skills like critical thinking, creativity, collaboration, and communication among children but also have a proper STEAM education curriculum to address the latest trends for educational demands of the technological era. The students get introduced to robotics in grade 1 and get a project-based learning opportunity in grade 3. which ultimately opens a new world to them for exploration. 
If you are interested to take your child's primary education with pre-primary on the advanced level, you can opt for Step Schools as Admissions for Nursery and primary are open! 
Conclusion 
Primary Schools are for early education phases. The students from ages 5 to 11 go to primary schools. The main purpose of primary school education is to develop specific skill sets among kids to enable them to live fruitful lives in their later years.