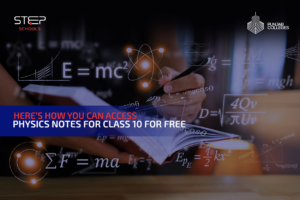 Are you facing difficulty in clearing difficult concepts in class 10 Physics? Stop worrying if yes is the answer because we've got your back. Being the hub of educational excellence, Punjab Group has always strived for equity and inclusion of all in the education journey. Prep By PGC is another similar initiative in this direction, as it provides free and unlimited access to all matric resources, including the Physics notes for class 10.  
Physics Notes for Class 10
Prep By PGC offers you unlimited access to video lectures, MCQs, short questions, and long questions. Likewise, you can set your own self-assessments to test your knowledge. Doing so will help you evaluate yourself vis-a-vis upcoming matric papers.  
The app contains 10th-class Physics notes on all topics. The chapter-wise list is as follows: 
Chapter 1: Simple Harmonic Motion and Waves 

 

Chapter 2: Sound 

 

Chapter 3: Geometrical Optics 

 

Chapter 4: Electrostatics 

 

Chapter 5: Current Electricity 

 

Chapter 6: Electromagnetism

 

Chapter 7: Basic Electronics

 

Chapter 8: Information & Communication Technology 

 

Chapter 9: Atomic & Nuclear Physics
Read Also: Lecture-wise list of Physics notes for class 10 
Resources Available in Urdu – Learn in the Language You Speak & Understand
Prep By PGC has an addition of another great feature in 2023. The app now gives you access to all educational material in Urdu. It means that you can now learn Physics notes for class 10 in the language you speak and understand.  
Our education experts believe that concepts are understood more easily when you remove the language barrier from learning. Likewise, learning becomes fun when you learn in your mother tongue.
All Resources At a Single Platform
The app provides you with all education resources on a single platform. The app contains thousands of long questions, short questions, MCQs, and video lectures. The country's top education experts have prepared these resources.  
This means that if you allocate proper time to studying from the app, you can make the most out of this app and can secure top grades in matric exams 2023.  
It is pertinent here to mention that students of the Punjab Group of Colleges have secured a whopping 176 positions across the Punjab Boards in intermediate exams. It includes securing the overall 1st position. Likewise, PGC students have also secured top positions in federal board exams.  
No Need to Pay Hefty Academy Fees 
One of the biggest advantages of learning from this app is that you can rid yourself of hefty academy fees. When all resources for all subjects of the matric are available at a single platform, why should you pay hefty fees to academics? 
24/7 Free Access
The app offers free and unlimited access to every student. It does not matter if you are a student of Punjab Group; the app is available for all students across Pakistan. The student residing in remote areas of Rajanpur can now access the same material as that of a student residing in Lahore or Karachi. All you need is a mobile or laptop/desktop and an internet connection to begin learning.  
Click

here

to download the app if you are using Android devices 

 

Click

here

to download Chemistry notes for Class 10 if you are using iPhone devices 

 

Click

here

to study Chemistry notes if you use a laptop or desktop device.