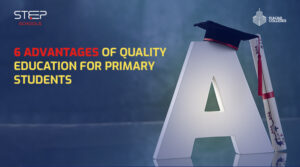 Quality Education is crucial for primary students. Quality education is the only source of academic, social, and personal success. Therefore, the topmost six advantages of quality education for school students are mentioned in this article.   
Quality Education Results in Polished Academic Performance
Academics require a certain level of knowledge, skills, and understanding among students at each level of education. Therefore, if primary students are provided with quality education, there are bright chances for knowledgeable children to proceed further for learning purposes.   
Better Career Opportunities 
Primary education is the basics of student life. If the basics are sturdy, the building stands strong. If this pattern is followed throughout the educational journey, the chances for better career opportunities become a beacon of light for students.   
Quality in education helps students pursue their career goals and put in the required effort.   
Well-learned Social Skills 
Education is not only about reading a bundle of books. On the contrary, quality education helps students to interact in various social settings. After getting a good education at the primary level, the child develops social skills to engage on multiple social levels starting in class and out of it.   
The well-groomed social skills proofs to be quite helpful in later years. When people get engaged on personal and professional levels with their peers, family and friends.   
Polished Personality 
Personality development is the most consequential outcome of quality education. With high standards in education, the personality traits of students get polished. When a student learns about new things early, they feel easy to talk with others. They get appreciated for a good performance. Ultimately, these all things positively impact students' personalities, which boosts their confidence.   
In later years, a student with a quality education becomes a firm believer in his abilities and urges him to take risks to grow and proceed in life.   
Strong Health Building 
A quality education impacts the physical and mental health of a student positively. When a primary student performs well and feels like a well-knowledge person, his happiness and acceptance from family improve his emotional and mental health.  
Optimised education provides students to stay vigilant about their health. They become more aware of viral infections and read independently to remain safe.   
In advanced education, the students carry their personality from their school. Students with a good education have already developed robust health. This could be maintained with continued efforts.  
Therefore, standard primary education must have the latest skills and knowledge base.   
Growth Mindset Development 
At the primary level, children's mental and physical abilities are in the growth process. Therefore, the availability of quality education can improvise the entire procedure massively. If the students receive a quality education, they get a growth-oriented approach from the early years. This growth mindset helps them identify the positives and possible opportunities inside the not-so-positive situations.   
This mindset gets expands with the passage of time and ultimately results in a prosperous and fruitful future.   
Well Grabbed Basics  
Basic skills are vital to be developed for life-long success. For instance, better reading, writing, and speaking skills are always required. Therefore, standardised education offers continuous practice in the primary level of schooling with other skills. For instance, the 21st century demands polished skills in robotics and IT-related fields. Therefore, an introduction is always a great idea at the primary level.   
Step Schools Provide Quality Education
Step Schools are huge contributors to 21st-century skills among school students in Pakistan. We offer STEAM education with the touch of robotics and practical learning options for students. You can get your child ready for a competitive tomorrow. Start today, as admissions 2023 are open.  
Conclusion 
Quality education is crucial for primary students for the development of well-developed basics. Therefore, schools must provide high-quality primary schools. Step Schools are the providers of 21st-century education at the primary level. And the admission spree for 2023 is also open; you can fill out the form here.